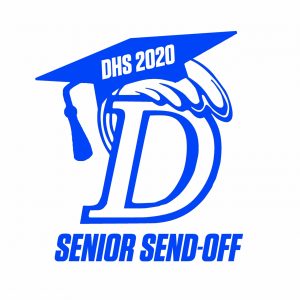 The Darien High School Parent Association (DHSPA) is hosting a fun, safe, inclusive and substance-free celebration for all DHS seniors on Friday May 15, 2020 after the prom. The Senior Send-Off (SSO) is an event filled with food, games, entertainment and raffle prizes. It provides a final opportunity for graduating high school seniors to celebrate with their friends before they head off to internships. All DHS seniors, whether they attend prom or not, are invited to the Senior Send-Off.
There is no required fee for DHS seniors to attend, but we are relying on parent and community donations to make this inaugural celebration not only a success, but also a tradition that will endure for future DHS seniors.  We hope you will consider donating the suggested amount of $150/student; additional contributions are greatly appreciated.
Early registration is encouraged as it helps with planning, including refreshments and logistics. All students and guests must register. DHS Seniors may bring their non-DHS senior prom dates, however, the required fee for non-DHS guests is $150.  DHS Seniors should register now. Guests may register up until May 1, 2020.

| DHS Seniors Register Here
| Guests Register Here
Parents are encouraged to make a suggested donation of $150.00 per DHS senior. There is no required fee, but we rely on parent donations. Additional amounts are always appreciated, and all donations to the DSHPA are tax deductible. It's important to donate early so we can set our budget. Please donate today using the PayPal button on this page or via check payable to "DHSPA" mailed to DHSPA, 80 High School Lane, Darien, CT 06820.
Many employers sponsor matching gift programs and will match charitable contributions made by their employees. If your employer participates, please email your matching form to dhs.seniorsendoff@gmail.com.
Interested in staying up-to-date on the very latest SSO news including invitations to support upcoming fundraising events, attend parent gatherings and much more? Check for weekly updates in the DHSPA e-newsletter and follow the DHSPA Facebook and Instagram accounts (click on the icons on this page).
such as concert or sporting event tickets, electronics, gift cards, etc. at Raffle Items.  
of groups of students for the Senior Send-Off Video. As you are looking through photos of your student for the Yearbook, upload photos of groups of students  at DHS events/activities/clubs. We'll be collecting them for the Senior Send-Off Video. Upload your photos HERE
We need your help to make this happen. Please email us at dhs.seniorsendoff@gmail.com
Email dhs.seniorsendoff@gmail.com
Senior Send-Off Chairs
Brandi Maniscalco – Chairperson
Sheila O'Boyle – Co-Chairperson
Karin Sharp – Co-Chairperson
Lynne Wilson – Co-Chairperson
Lori Olson – DHSPA Co-Chair
Joan Kanlian – DHSPA Co-Chair