Dear Parents,
We are thrilled to announce the 2023 DHSPA Direct Appeal Kickoff! This is our one and only direct appeal and we depend on your support heavily. This year, the appeal will run for just 28 days from October 23rd – November 20th. The support you provide allows us to continue with the opportunities that make Darien High School consistently ranked one of the top schools in the state! Your involvement and generosity have played a vital role in creating a fun and inspiring community for our students, teachers and administration!
The 2023 DHSPA Direct Appeal goal is $30,000. We are suggesting a donation of $125 per student, but we are beyond grateful for any donation that aligns with your family's budget. Your contribution to this direct appeal will significantly impact our ability to support the following initiatives and many more!
Parenting and community programming with incredible speakers such as Mark Brackett, Lisa Damour and Joyce Sixsmith, as well as grade-level parent coffees and the DHS Alumni Panel
Mental health initiatives such as Wellness Week and our new Wellness Center, newly furnished!
Fun student initiatives such as the 100 Day Dinner, Battle of the Bands, Trunk or Treat and contributing to our junior and senior proms as well as other Student Government activities
Enrichment & Diversity, Equity and Inclusion initiatives
Teacher initiatives and luncheons, including back-to-school, Teacher Appreciation Day, holidays, end of year and restocking of the faculty lounge
Graduation events like the college fair, rehearsal picnic, reception and the senior lawn signs
Please click here to donate via PayPal (QR code below!) or checks may be sent to DHS (payable to Darien High School Parent Association).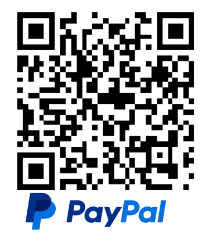 As always, thank you for your continued support.
Beth Lane & Kelly Scallon, Darien High School Parent Association Co-Chairs
Gina Gromelski & Ali Cherenek, Fundraising Co-Chairs